A quick check of Wikipedia (https://en.wikipedia.org/wiki/Hand) will confirm that the hand is…
a prehensile, multi-fingered appendage located at the end of the forearm or forelimb of primates such as humans, chimpanzees, monkeys, and lemurs
It also tells you that a human hand (normally) has four fingers and one thumb and 27 bones, not including the sesamoid bone, the number of which varies between people.
What it doesn't tell you is how debilitating it can be not being able to use it!
Problems affecting the hand are many and varied, often resulting from sports and workplace injuries, household mishaps, overuse, and conditions such as arthritis. Even musicians such as guitarists and string instrument players can have problems resulting from long periods of practising and playing.
This is where hand therapists come in – experts in the diagnosis and treatment of problems affecting the hand, wrist and elbow.
Bayside Hand Therapy, located on the corner of Bay Terrace and Florence Street in Wynnum is the place to go if you have any of the conditions listed here.
Established in 2009, the practice recently moved to larger rooms in the Wynnum Wellness Centre from their previous location in Florence Street. Occupational therapists at the clinic also provide specialised treatment techniques including splinting and casting, exercise programs, wound care and pain management.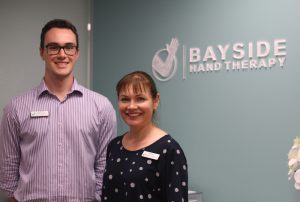 Principal hand therapist Melissa James (pictured left with occupational therapist Jamison MacDonald) is an accredited hand therapist with over 25 years experience in hand therapy.
Since graduating from the University of Queensland in 1991, she gained a Postgraduate Diploma in Hand and Upper Limb Rehabilitation and has worked in both public and private hospitals.
No referral is needed for private patients to see a hand therapist and HICAPS is available for onsite claiming of health fund rebates. The clinic also provides treatment to clients under Workcover and Veterans Affairs and is a registered NDIS provider.
Consultant hand surgeon Dr Libby Anderson also consults from Bayside Hand Therapy one day per month – a real bonus for Bayside residents who can now see a hand surgeon without having to travel into the city.
Bayside Hand Therapy is a Member of Brisbane Business.